Husbands and I (Part I)
Performance and photography: 2009-2011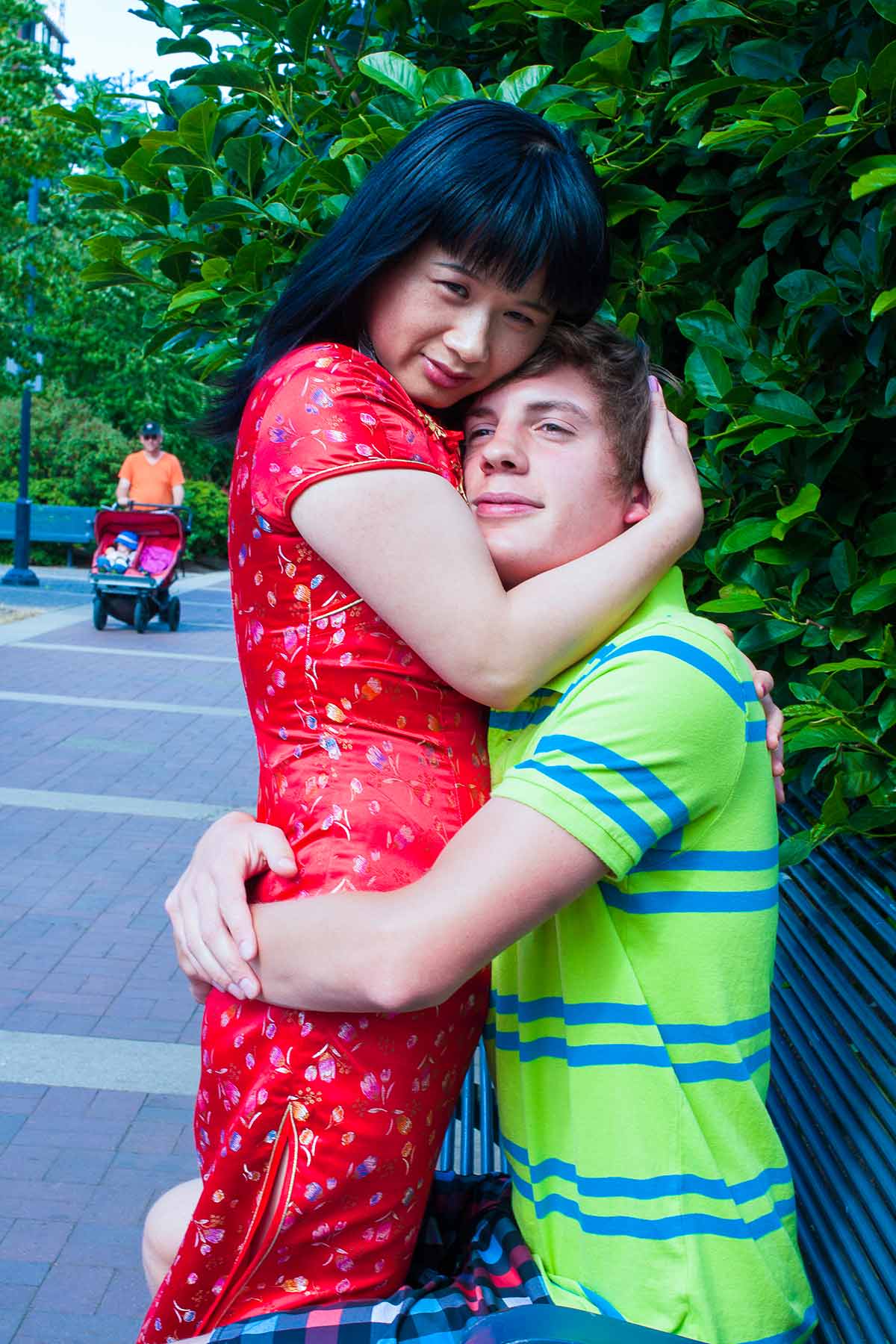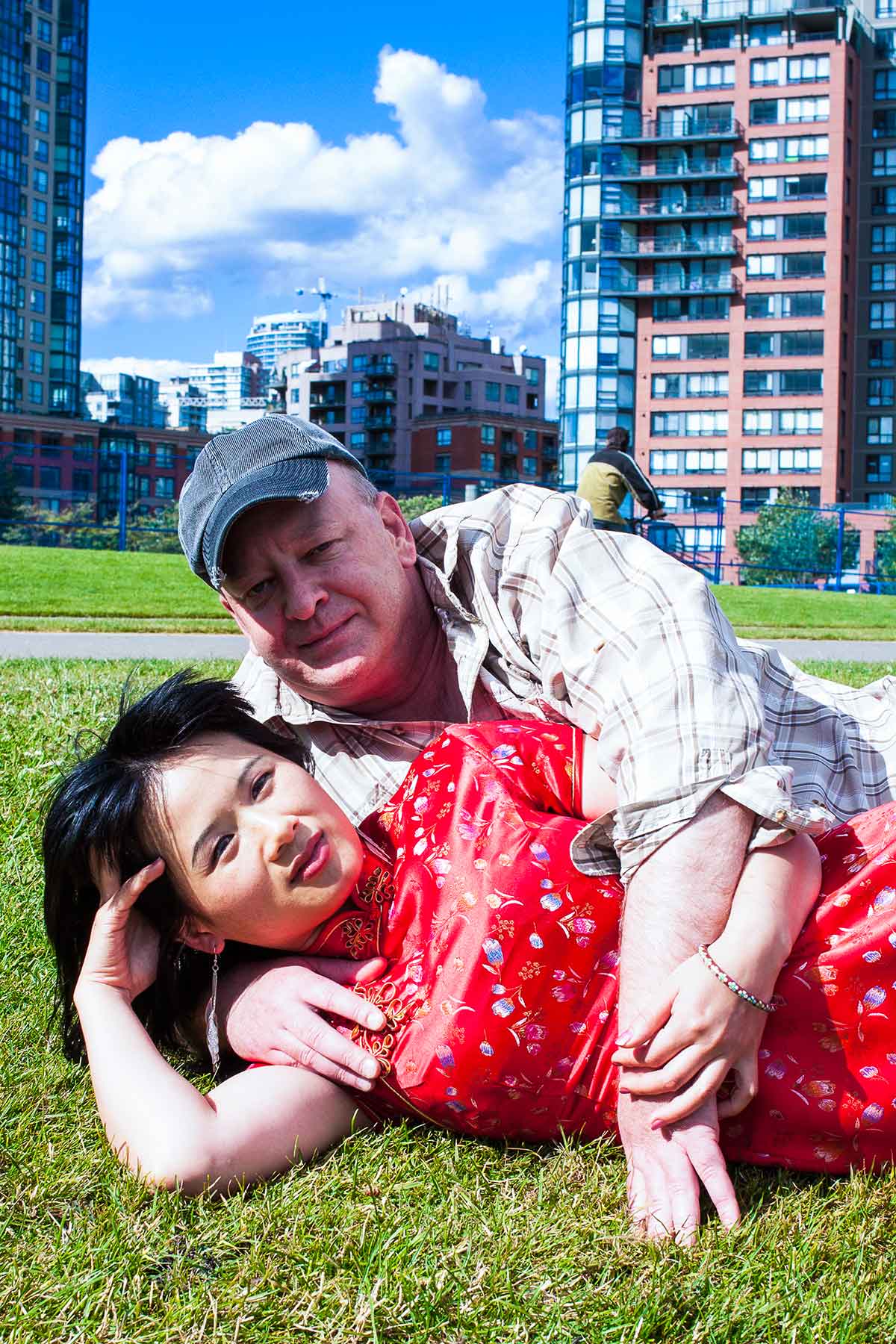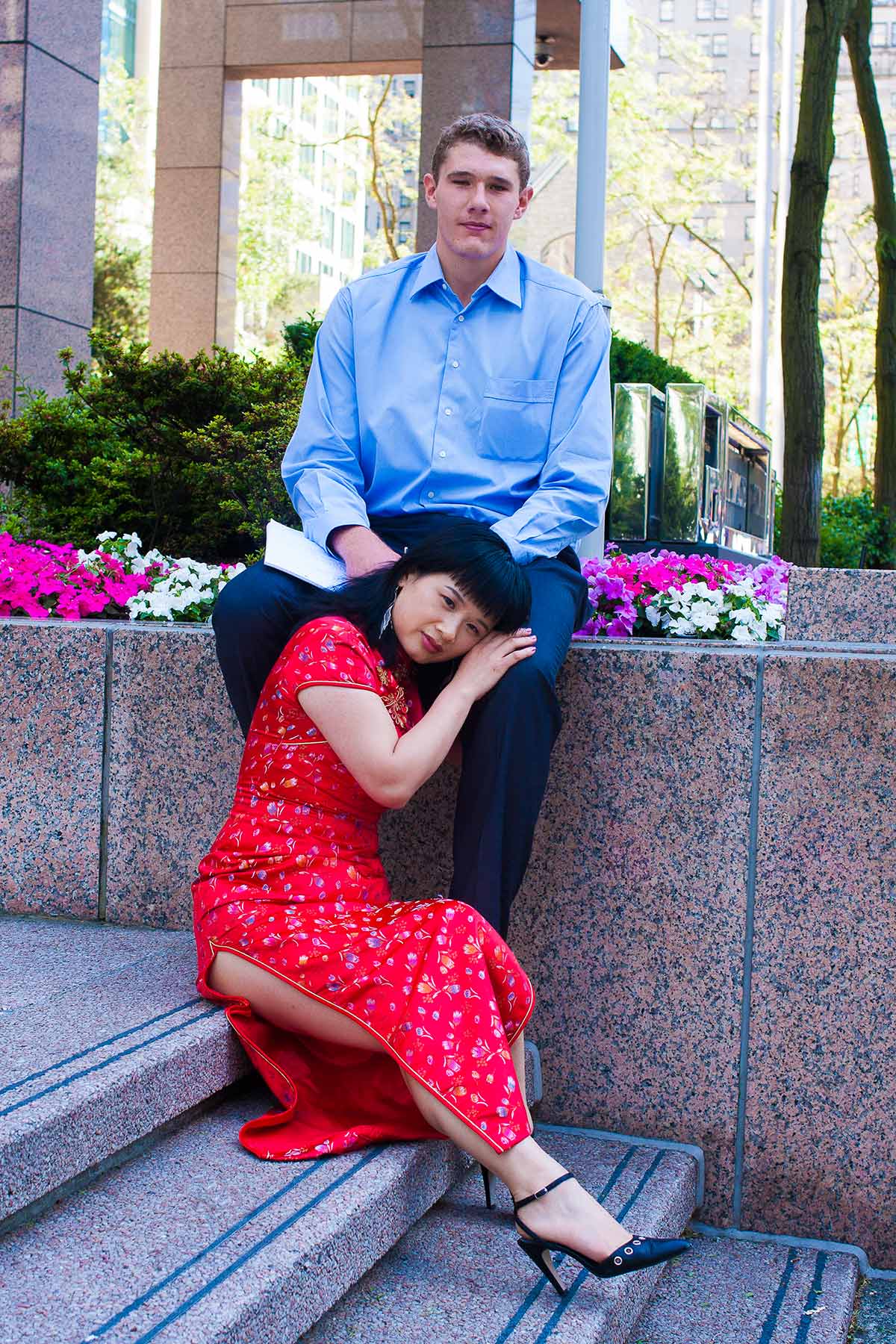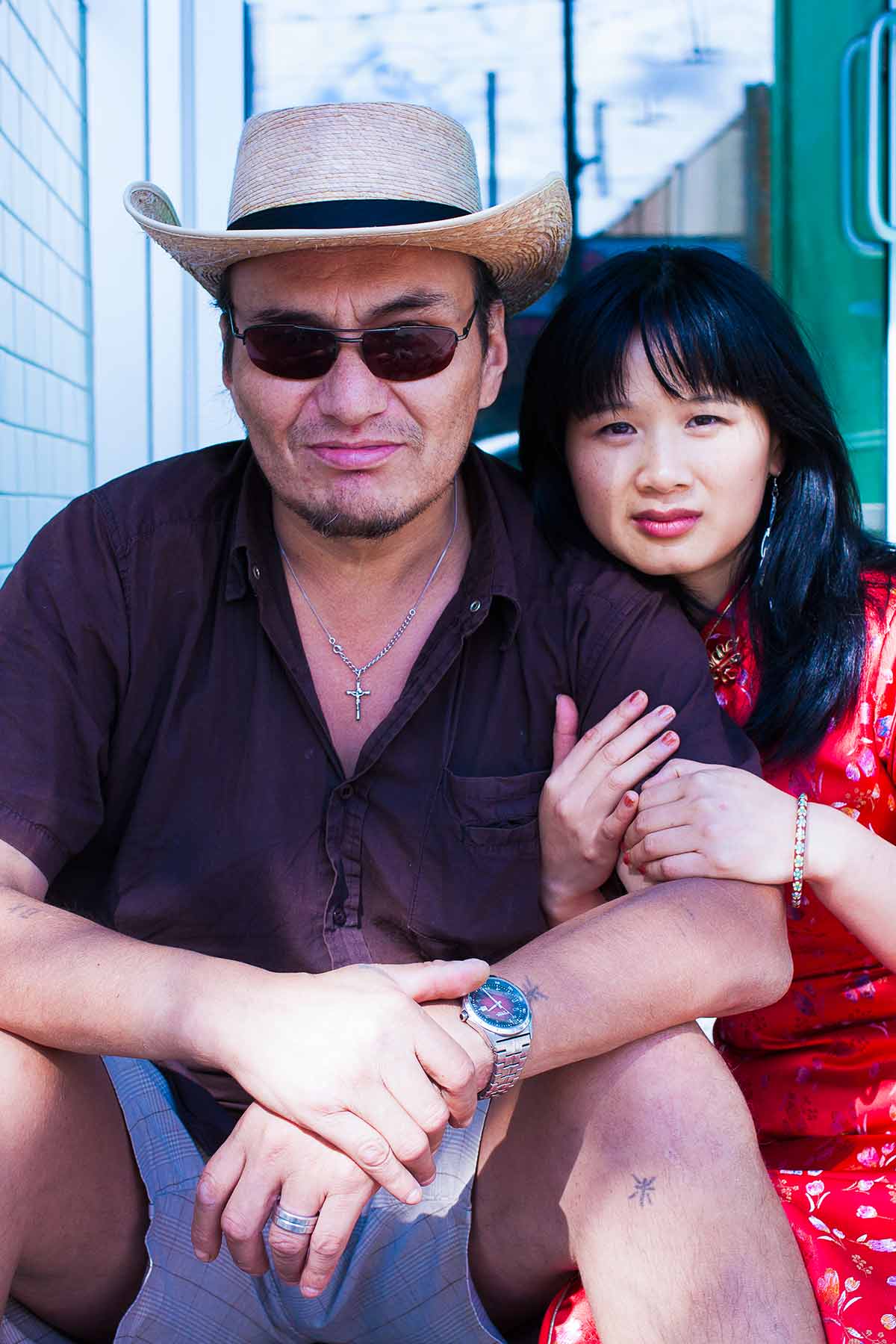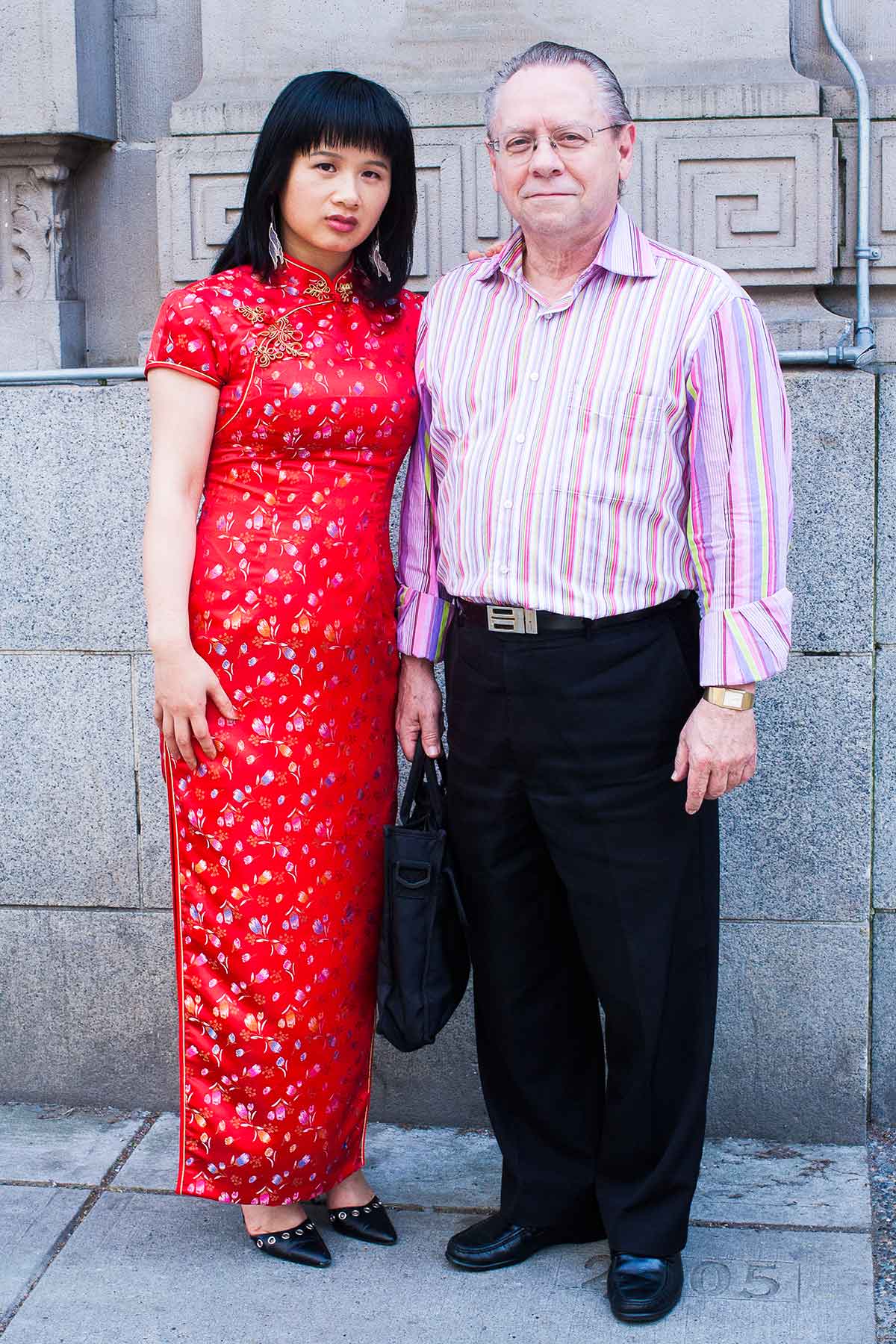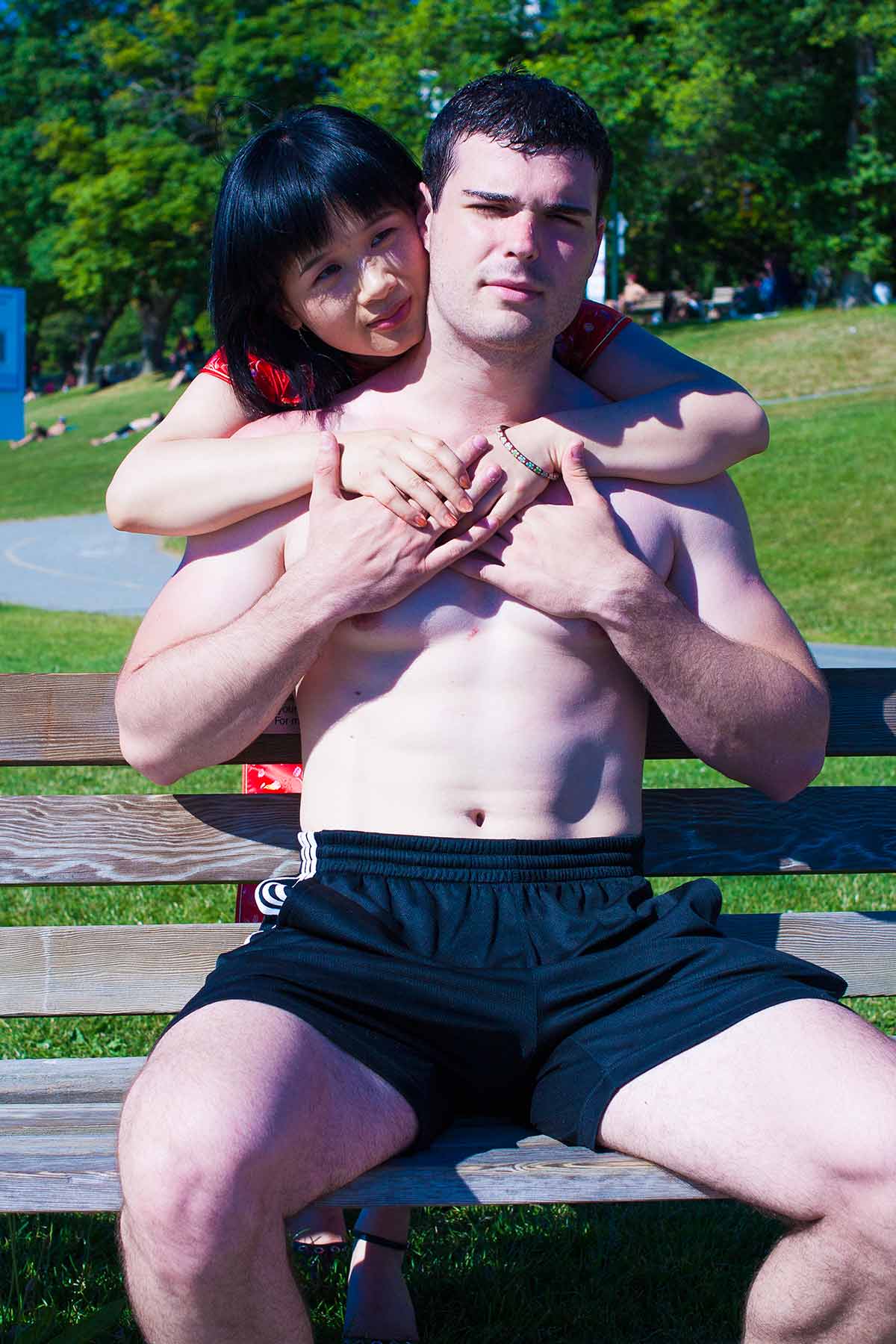 "Husbands and I" consists of two parts: One-Minute-Husbands and One-Day-Husbands. This work is social performance wherein I navigate my own relationship to Western culture through one-minute and one-day relationships with white men. I started the "Husbands and I" performance in 2009 in Vancouver, where I wore a traditional Chinese dress and asked white males on streets to have photo taken with me by suggesting them to be my husbands for a minute. I have had photos with 325 men. In 2010, I posted classified advertisements describing myself as "an exotic, compliant and artistic Asian girl looking for a white husband who would like to take me to his home to live with him for a day as his mail order bride," and recorded videos of my experiences living for one day with each ad respondent. For One-Day-Husbands, please see Husbands and I (Part II).
"Husbands and I" provides a framework in which to negotiate my shifting identity in the context of emigrating from China to Canada. The notion of marriage not only encompasses emotional and bodily intimacy (as in my encounters with each "husband") but the process of immigration itself. I am interested in the parity between the cultural phenomenon of the mail order bride and my own lived experience as a Chinese woman in Canada. In fact, my experience of settling in Canada is similar to that of a mail order bride. Like a mail order bride, I married Canada that I had never seen before, suddenly transforming myself from a Chinese to a Chinese Canadian or Canadian. The physical encounter between myself and the men featured in this series is an ideological confrontation that mirrors my relationship to Western cultural landscapes that I live in but don't belong to.
The process looking for a husband is a metaphor of looking for home. However, unfortunately, the home is temporary and the relationship is ephemeral. Nevertheless, by exploring intimacy with these husbands, my aim is not only to reconfigure established positions of power and privilege but also to question whether the Chinese female body can be essentialized productively in service of resistance.
While much of my work is focused on cultural hybridity and the experiences of racialized individuals and minority groups, this particular project focuses on the representation of Asian women living in North America. Despite the fact that we live in an increasingly globalized world, Western representations of Asian women haven't changed much. In fact, the experiences of Asian women are still viewed as enmeshed, to different degrees, with pre-existing Orientalist visual representations. By complicating the idea of marital intimacy with my husbands-for-a-minute and husbands-for-a-day and exaggerating my own cultural identifiers, I hope to draw attention to the ideological underpinnings of the notions of home, marriage and identity.
For installation view at Art Museum of University of Toronto, Toronto and Leonard & Bina Ellen Art Gallery, Montreal, please visit links below
"Husbands and I" at Art Museum of University of Toronto (2014)
http://chunhuacatherinedong.com/portfolio/husbands-and-i-2/
"Husbands and I" at Leonard & Bina Ellen Art Gallery, Montreal (2012)
http://chunhuacatherinedong.com/portfolio/husbands-and-i/
photo credit: Ruth Skinner and Chad Darnford